Last Updated 23 December 2010
[My apologies for the poor quality of the small inages. Please click on the individual graphics for enlargments]

Starting in January of A.S.XXXIX (2005) due to increased demand
we began publishing two (2) strips a month in The Equinox

The Mundane Year 2005

| Where There's Smoke | A Package Deal | Whose Line Is It Anyway? | Sparking Interest |
| --- | --- | --- | --- |
| By the Book | A Hot Stick | Calling His Bluff? | Missing in Action |
| --- | --- | --- | --- |
| Stupid Protege Tricks | Needing to Get Out More | Simian Counciling Associates | Three Times a Lady |
| --- | --- | --- | --- |
| Ernan's Excellent Adventure | Duking It Out | Hell to Play | Spider Sense |
| --- | --- | --- | --- |
| He Shoots...She Scores | Who's Who | Not a Leg to Stand On | Super-fluous |
| --- | --- | --- | --- |
| Friday the 13th A.S.XL | The A-Team | The B-Team | Nite-Nite |
| --- | --- | --- | --- |
Starting in December of A.S.XL (2005) again due to increased demand
we began publishing three (3) strips a month (occasionally four (4) in The Equinox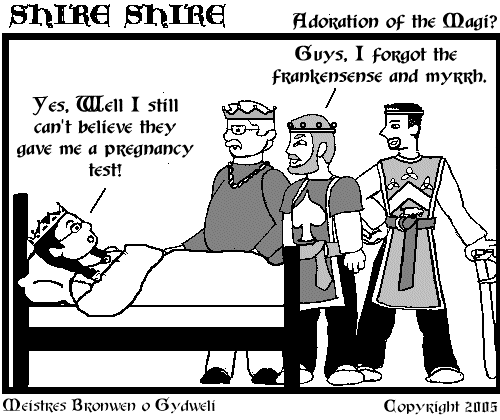 Adoration of the Magi?

All graphics copyrighted and originally published in EQUINOX, the newsletter of the SCA Shire of Sol Haven.
Reprinting by permission only. Contact Meistres Bronwen o Gydweli --
sh_chronicler (at) solhaven (dot) com or meistresbronwen (at) covingtoncastle (dot) com
All comics are posted after original publication. If they do not show up on this page along with the date and title, this is because they have not yet been published, or (in the case of one strip) that there might be a question of copyright infringement in using a mundanely recognizable cartoon character, albeit redrawn.

Back to Shire! Shire! Main Page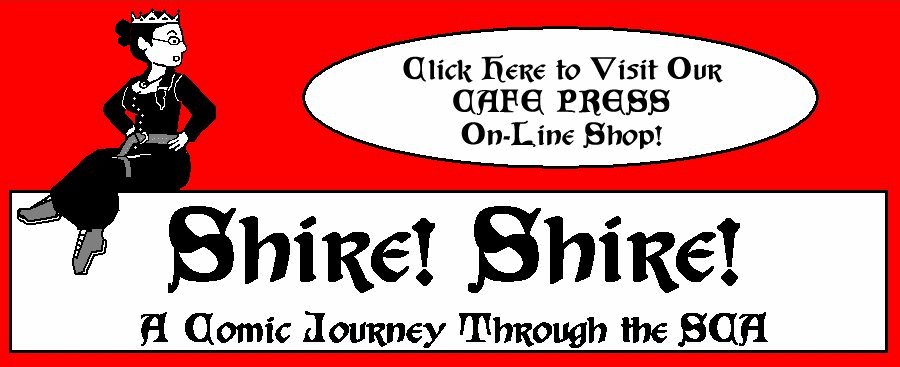 Shire! Shire! merchandise now available!! http://www.cafepress.com/ShireShire